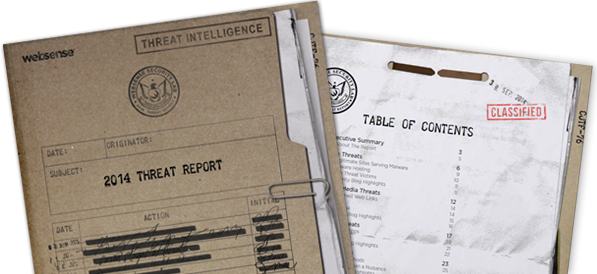 For Your Eyes Only: Exclusive Intel for Security Strategists
Learn how to apply the seven-stage "kill chain" and attack model to your cybersecurity. In preparing the Websense® 2014 Threat Report, Websense Security Labs™ researchers examined cybersecurity through the lens of a seven-stage kill chain and attack model.
What they found is need-to-know information:
Knowing the threat lifecycle, attack apparatus, and attacker motivations is the foundation for understanding risk and reviewing your security posture.
Gaining insight into each stage of the attack lifecycle provides clues to understanding how cybercriminals conduct and adapt their attacks in their attempts to steal your critical data.
Recognizing that ongoing protection from the simplest to the most complex new threats rests in identifying and preventing live attacks at every stage of the kill chain.
Register today for your copy of the 2014 Threat Report by filling out the form to the right. Then view a webcast for an in-depth explanation of the report and its findings.