Coming Soon!
We are working to improve our entire Support Website very soon! For additional details, please click here.
Contact Support
Stonesoft and Sidewinder customers, please continue to use the same phone number and systems for support via Intel. Click here for more information.
Submit a Case
Conveniently open a new case or manage existing cases online. Our engineers will research your question and contact you through your case.
Call Us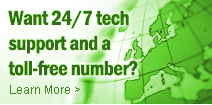 When you need immediate assistance call us at the number provided in your welcome kit, or choose the one most convenient to you from the list below. Your call will be routed to the first available technician.
To expedite your call, please have your Support Account ID number available. This number can be retrieved within your account.
If you obtained your technology through a Partner, you may use our Reseller lookup tool to locate their contact information.
| Support Region | Telephone |
| --- | --- |
| North America | +1.858.458.2940 |
| Asia | +86 (10) 5884-4200 |
| Australia/NZ | +61 2 9414 0033 |
| France | +33 1573 23 227 |
| Germany | +49 69 517 09347 |
| UK (and rest of EMEA), Middle East & Africa | +44 2030244401 |
| India | 000.800.100.3920 |
| Latin America & Caribbean | +1.858.458.2940 |
Technical support is delivered primarily in English. While we cannot guarantee local language support in all instances, best effort local language support is available as follows:
Americas: English and Spanish
Europe, Middle East and Africa: English, French, German, Italian
Asia Pacific: English, Chinese, Japanese, Cantonese