Websense ThreatSeeker Cloud
Advanced Content Security Service for Third-Party Solution Providers
The Websense ThreatSeeker Cloud extends Websense market leading content security technology and global Security-as-a-Service (SaaS) infrastructure to third-party solution providers to deliver dynamic security protection in their products and services. The ThreatSeeker Cloud provides Websense Web, data and email security intelligence through the proven cloud-based delivery infrastructure that powers all Websense content security products, including the company's security-as-a-service offerings and the V10000 Web Security Gateway Appliance.


Websense ThreatSeeker Cloud is powered by the ThreatSeeker Network and leverages a Web services API to easily integrate with business and consumer technology solutions. Unlike other security services that only check a Web sites reputation, the ThreatSeeker Cloud provides full content analysis and categorization, including Web and content classification, reputation and behavioral analysis, file and data analysis, and security filtering.
How third-party providers can use the ThreatSeeker Cloud:
Consumer ISP Services - Internet service providers (ISP) can leverage the ThreatSeeker Cloud to dynamically classify Web sites and Web site content, which differentiates a provider's services and delivers parental control and safe Web browsing to customers.
Mobile Security Services - Mobile carriers can protect their users from malicious and inappropriate content, delivering advanced content security from the market leader.
Web 2.0 Security Services - Social networking sites or other Web 2.0 sites can use the ThreatSeeker Cloud to analyze and classify hyperlinks and content on their sites in real-time, to prevent malicious and inappropriate content from being posted on or distributed from their site.
Network Device Security Services - Networking solutions can take advantage of the ThreatSeeker Cloud's Web services API to incorporate security into their gateways and edge devices without the need for onsite URL databases and analysis engines, thereby reducing the on-premise footprint and resource requirements for those devices.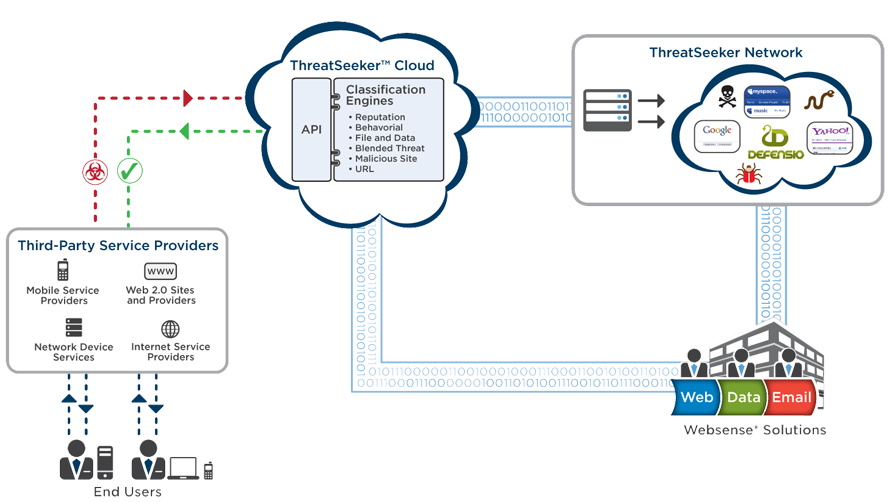 For more information or to contact Websense to license service of the ThreatSeeker Cloud, email businessdev@websense.com.