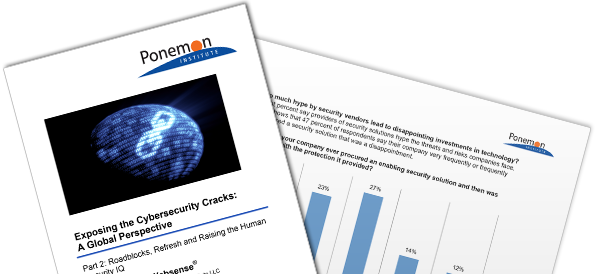 Exposing the Cybersecurity Cracks: A Global Perspective
Part 2: Roadblocks, Refresh and Raising the Human Security IQ
Report Reveals Nearly 30% of Security Pros Want to Overhaul Their Organizations' Security Systems
Have you ever wondered how your cybersecurity peers feel as they navigate today's dangerous threat landscape?
Are they confident of stopping data theft that can cripple their organizations?
Do they have access to the defensive tools and technologies they need?
Are their needs supported and understood by their executive teams?
The second report of a two-part Ponemon Institute survey, "Roadblocks, Refresh & Raising the Human Security IQ," answers these and other questions facing you and your global colleagues as you strive to protect your organizations from cybercriminal activity. Register here for part 2 of the report as well as gain access to part 1, "Deficient, Disconnected and In-the-Dark".
Researchers surveyed 4,880 experienced IT security pros from 15 countries and found:
Communication roadblocks between security professionals and executives.
Security teams calling for a complete security system refresh.
A need to raise the "human security IQ" by investing in talent and education.
The report also offers recommendations for companies wanting to better manage and prevent cyber attacks targeting their sensitive and confidential information.
Register today to download a copy of the full report, as well as numerous region-specific summaries, including part 1 of the report.